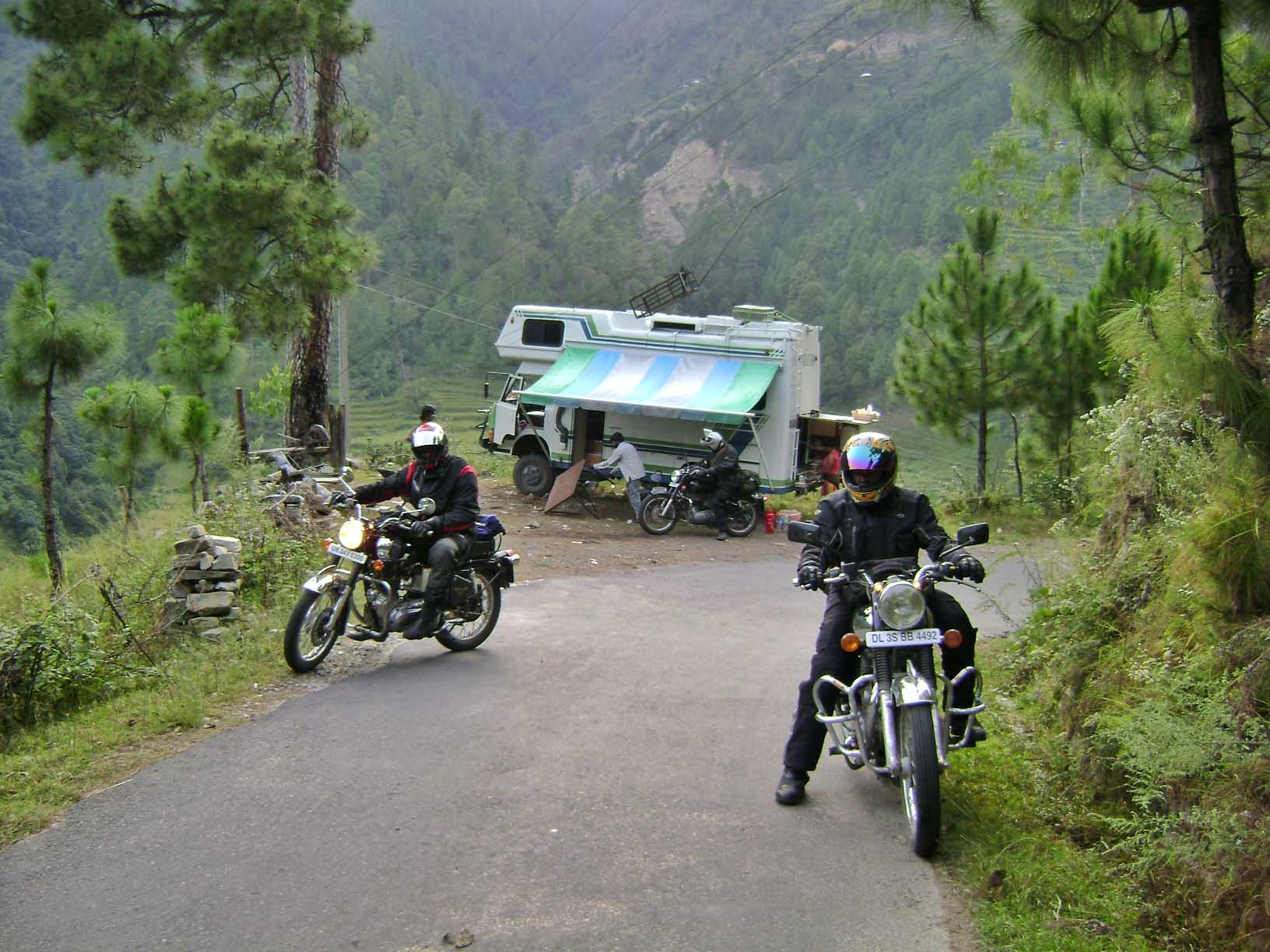 | | |
| --- | --- |
| Duration | 11 Nights / 12 Days |
| Overview | Delhi - Corbett Tiger Reserve - Corbett Fall - Bhimtal - Nakuchiatal - Sattal - Ranikhet - Kausani - Bageswar - Binsar Sanctuary - Jageswar - Almora - Mukteswar - Nainital - Delhi |
| Season | March - December |
Day 01: Delhi to Ramnagar (CTR) (270 km)
Early start from Delhi to reach Ramnagar, (Corbett Tiger Reserve), resume your journey to reach ahead of Ramnagar near by Kosi River.
(CTR) Corbett Tiger Reserve the first wildlife reserve of India, extending over an area of more than 500 sq km in the Himalayan foothills. Keep your binocular handy as the Park is home to over 585 species of birds, 7 species of amphibians, 33 species of reptiles, 7 species of fishes and 37 species of dragonflies.
Although the main highlights of Jim Corbett Park are the endangered Bengal tigers, leopards and crocodiles; yet other wildlife animals like sambas, hogs, otters, boars, elephants, sloths, gorals, pangolins and langurs can also be easily spotted here. Tonight youll do a Wild Camping at Kosi River bed with bonfire, Gala dinner & night watch.
Day 02: Corbett Fall
Just a few kms away from the wildlife lies a beautiful water fall. Mornings are without a doubt the best time to go for a Jungle ride. So cut short your sleep to wake up to the early morning mists and get ready for a Jeep safari in CTR, while youre guide do the paper formality at Brijrani/Jirna entry point to CTR, enjoy your packed breakfast. Once you have pass through second check post, keep your eyes open, if youre LUCKY enough for spotting the king of the jungle The Bengal Tiger. After 4 hours of jeep safari youll return to base and one could go for an optional river side activities: Slithering, Rappelling, Flying Fox/River crossing etc. on return enjoy mouth watering lunch and at a leisurely pace resume your journey to Sattal (Seven sided lake) where youll camp with a guiding instructions from our Team Leader, how to pitch a tents, it all adds to an experience. If time permits collect wood from near by jungle for bonfire. Gala dinner and sleep well tonight for tomorrow's adventures.
Day 03: Corbett Fall to Bhimtal to Naukuchiatal
After adventurous day at Corbett it is now time to move to our next destination. The same level or greengry as Corbett but a bit subtle wildlife. You can enjoy your day with a boat ride to the other side of the shore or walk a few kilometers to reach Naukuchiatal. Both the lakes are a cool get away from the city life.
Day 04: Bhimtal to Sattal
Similar yet very different from Naukuchiatal. We will resume the journey to reach Sattal. You have the rest of your day to relax by the nature and explore the beauty of Sattal.
Day 05: Sattal - Ranikhet (72km)
Gear up yourself to walk for about 2 kms through rocky terrains & forest to near by water fall, spend an hour or two, take a shower or explore the region, on return at a leisurely pace resume your journey to Ranikhet Via Bhowali. Today can be an opportunity for relaxation, exploration or contemplation depending on your inclination. Tonight you'll do a Camping near nine hole Golf course ground where mornings are without a doubt to see. Snow caped mountains view on a clear sunny day. Golf course is under strict Army supervision and we have to follow the rules, abide by Govt policy; youll can enjoy the bonfire at night.
Day 06: Ranikhet
Today it is time to explore the near by region on foot or laze around motorhome and admire the beauty of Himalayas. And if youre lucky enough and permission granted by Army, you may find yourself on Golf course 9 hole ground.
Day 07:Ranikhet - Kausani (84km)
After a pleasant full stay in the laps of Ranikhet, and shortly after an early morning breakfast youll drive to the high road to Kausani, which offers great views of snow clad peaks of the Himalayas. Today tent camping will be slightly different from other days on top of a mountain clinger, totally cut off from civilized world, track for about one km and you'll be asked to give a little helping hand to pitch a tent which will eventually save in time as well. Cooking and other activities will take place as usual in motorhome followed by a must Bonfire.
Optional visit to near by Bajinath Temple, dedicated to Lord Shiva by separate vehicle (Jeep).
Day 08: Kausani -

Bageswar

Binsar Sanctuary (87km)
Get ready for listening to the soothing chirping of the birds that permeate the atmosphere. There are well defined forest trails inside the Binsar Santuary. You can either cover them on foot. Keep a binocular handy as the Sanctuary is full of numerous varieties of birds and has the largest variety of avifauna which includes many rare and endangered species. Nights is not completed with a Bonfire on this chilly ambiance.
Day 09: Binsar to Jageswar to Almora (66km)
After a pleasant full stay at Binsar, day start with wholesome breakfast. Today start your journey into a small town nestled in the hills on the ancient trade route to Tibet and former summer capital of the Kumaon Empire, an idyllic village set high above the green valleys in a beautiful region of Pine & Deodar forest and home to the legendary temples, dedicated to the mother goddess, which dominates the village, in the Indo-Tibetan architectural style. Rest of the day is to explore the region on foot and admiring the 160 degree panoramic Himalaya view. we will settle the night with setting our camp under the palm of Pine & Deodar forest.
Day 10: Almora - Mukteswar (67 km)
Drive through scenic séance to Mukteswar and explore the region on foot. The evening can be spent taking a stroll on near by forest or soaking-in the charm of its surrounded pine and deodar woods. Sleep well tonight and prepare for a dreamland journey.
Day 11: Mukteswar

Nainital (71km)
After breakfast, once again youll retrace the journey on the NH-87 to Bhowali, continue on the road towards Nainital once called summer capital, strategically surrounded with many view points and many more attraction this little town has to offer Ropeway ride. Nainital sightseeing by local vehicle, the we will camp in parking ground if there is a space available. Rest of the day is at your disposal or one can soak-in the charm of its surrounding. Evening is without a doubt to explore the local market or stroll around the Mall road between Tallital & Mallital & boat ride in Nainital. Optional: Bon-Fire.
Day 12: Nainital

Delhi (340km)
After spending beautiful time in the Kumaon hills, drive through the lower hills in Himalayas descend back to reality to the city of Haldawani, at a leisurely pace start driving back to Delhi. Today, It'll be time to say good-bye to Himalayas. After lunch you'll resume your journey to Delhi and our company representative who'll transfer you to a convenient location in Delhi which shall be the end of your tour.
WILL I HAVE TO BOOK A HOTEL ?
Because you will be traveling in your home on wheels, you wont have to worry about booking a hotel or search for bathrooms from road to road. Each of our caravans have comfortable seating and sleeping space along with a fully functional bathroom with hot and cold water supply. For people who want to make their sleep time interesting we will be providing an optional Tent ( IF you want to opt for Tent, we request you to inform us prior to the trip )
WHAT ARE THE INCLUSIONS AND EXCLUSIONS OF THE TRIP ?
Includes :
All amenities of caravan and Fuel

• Excludes :
Driver and helper's daily TA INR 2000/-
18% of service tax
Toll
Parking
State taxes
Sightseeing charges
Air fare
Taxi fare
If there are any other questions that we might have missed you can contact us and mention the same :)