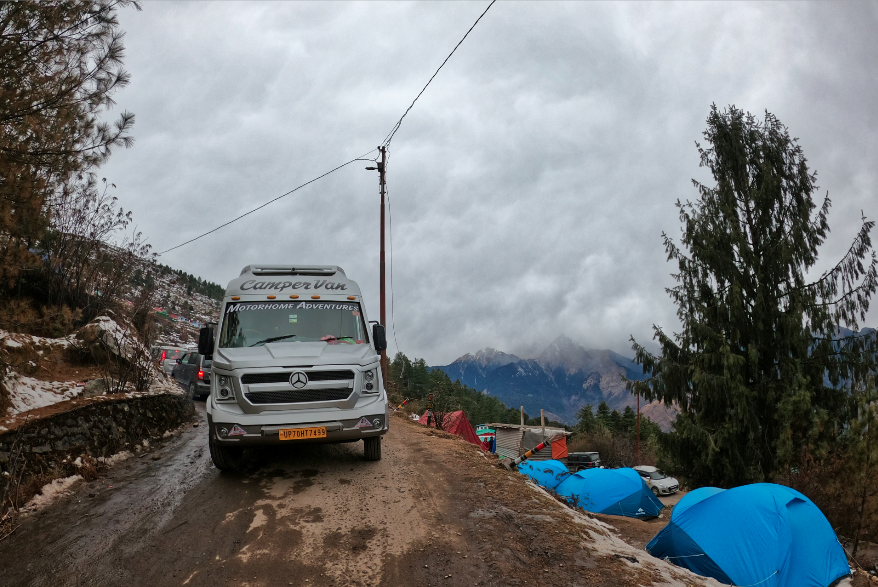 | | |
| --- | --- |
| Duration | 5 Nights/ 5 Days |
| Overview | Delhi - Rudraprayag - Auli - Delhi |
| Season | December - February |
Auli is one of the most loved places in Uttarakhand and for good reasons. It is one of the most travelled places even during the off season.
Some facts you should know.
Because of the Increase in Tourism there's been a lot of concrete development (Hotel & Restaurant) in Auli over the past few years, which in terms of comfort is a great development but in terms of environmental factors is causing a lot of damage to the beauty of this place.
Despite of the developments the Hotels and Resorts are hard to book if you want to do so there and then.
The road conditions although constantly being improved by the Tourism department are not viable for every small car to travel because of the weather conditions resulting in unpaved roads.
Why do we think renting a Caravan is a much better option if you're considering travelling to Auli ?
The beauty of this place should be seen by more people and tourism should definitely be promoted to scenic places like Auli. If you choose to travel in a caravan,
You wont have to worry about if or if not your vehicle would be able to travel up the hill in the unknown road/weather conditions.
Not only our Caravans are built on powerful base vehicles that are built for Indian Roads but also we've tried and tested our Caravans in more difficult road conditions than you'll face at Auli.
You wont have to worry about reaching the destination, finding a Hotel that has availability or a place to eat
Instead you can enjoy your journey and wont have to worry about the hassle of booking etc because you'll be traveling in your Home on Wheels.
On top of all that you'll be saving the environment by not becoming another person who contributes to building/development of Concrete in Nature.
When you're travelling in a Caravan you're not creating anything that would permanently damage the Nature/area around it.
We've shared a detailed information on why we didn't create a Curated Package towards Auli Which you can find in the video.
Because this is an open ended package you can customise the itinerary as per your preference.
You can add or eliminate a day, a location or a stopover if you want to.
Here's how your trip will look like,
DAY 1 : Early morning departure from Delhi to Reach Rudraprayag
Overnight stay at Rudraprayag.
Because Auli is not that close to Delhi its difficult to reach Auli in one day which is why we've given a middle point so that you are not spending the whole day traveling in the caravan.
DAY 2 : Early morning departure from Rudraprayag to reach Auli
You can unwind, camp, be in the middle of the white snow (if you're traveling during the winters) and still be in the comfort of your home
Day 3 : Explore Auli, you can go for a cable car ride, ski or do other adventurous activities.

Day 4 : Post Lunch Departure from Auli to reach Rudryaprayag

Day 5 : Post Lunch departure to Reach Delhi by evening.
WILL I HAVE TO BOOK A HOTEL ?
Because you will be traveling in your home on wheels, you wont have to worry about booking a hotel or search for bathrooms from road to road. Each of our caravans have comfortable seating and sleeping space along with a fully functional bathroom with hot and cold water supply. For people who want to make their sleep time interesting we will be providing an optional Tent ( IF you want to opt for Tent, we request you to inform us prior to the trip )
WHAT ARE THE INCLUSIONS AND EXCLUSIONS OF THE TRIP ?
The final charges will be inclusive of basic amenities of caravan ; start up toiletries, bed liners, blankets, pillows and pillow cases, cutleries + utensils (if required shall be mentioned while booking) and a 14.2 LPG
Exclusive of fuel charges, food charges, driver and helper's daily TA INR 2500/-, toll, parking, state taxes as per actual, any permits or permissions and 18% service tax ( only over the rental cost )
If there are any other questions that we might have missed you can contact us and mention the same :)