| | |
| --- | --- |
| Duration | 4 Nights/ 4 Days |
| Overview | Delhi - Mukhteshwar - Delhi |
| Season | Available all seasons |
Your Enchanted Getaway to Mukteshwar will look like this
You'll leave at midnight to reach Mukteshwar, by the dawn of Day 1.
It will be approximately 8-12 hours journey.
We recommend to carry a snack, just in case.
Day 1
Wake up with a view, pack your meal and start your day with a long walk in the greens.
Create memories connect with nature, reconnect with yourself.
You will encounter one of the most beautiful waterfall, Bhalugarh Waterfall !
Explore and enjoy the freshly prepped meal you packed, feast in the jungle and experience nature like never before.
Come back to your halting station which is a minute walk away from the entryway of the waterfall. Start a bon fire, pitch up tents and have a peaceful night in the wild.
Day 2
Fuel yourself with a heavy brunch and get ready for the astonishing views today.
You will be burning those calories walking uphill towards the spot of the day, well there are 2, so chose your favorite
Your first stop will be Chauli ki Jaali, a local spot with breathtaking views for days.
Followed by a halt at Donkey Point (Yes, we named this spot & we will save the story for when you're actually here)
Pitch up your tents and get ready to explore the different constellations. Sleep well and get up early to witness one of the most alluring sun rises.
Day 3
You will have an early morning run (in your home on wheels) towards the next destination.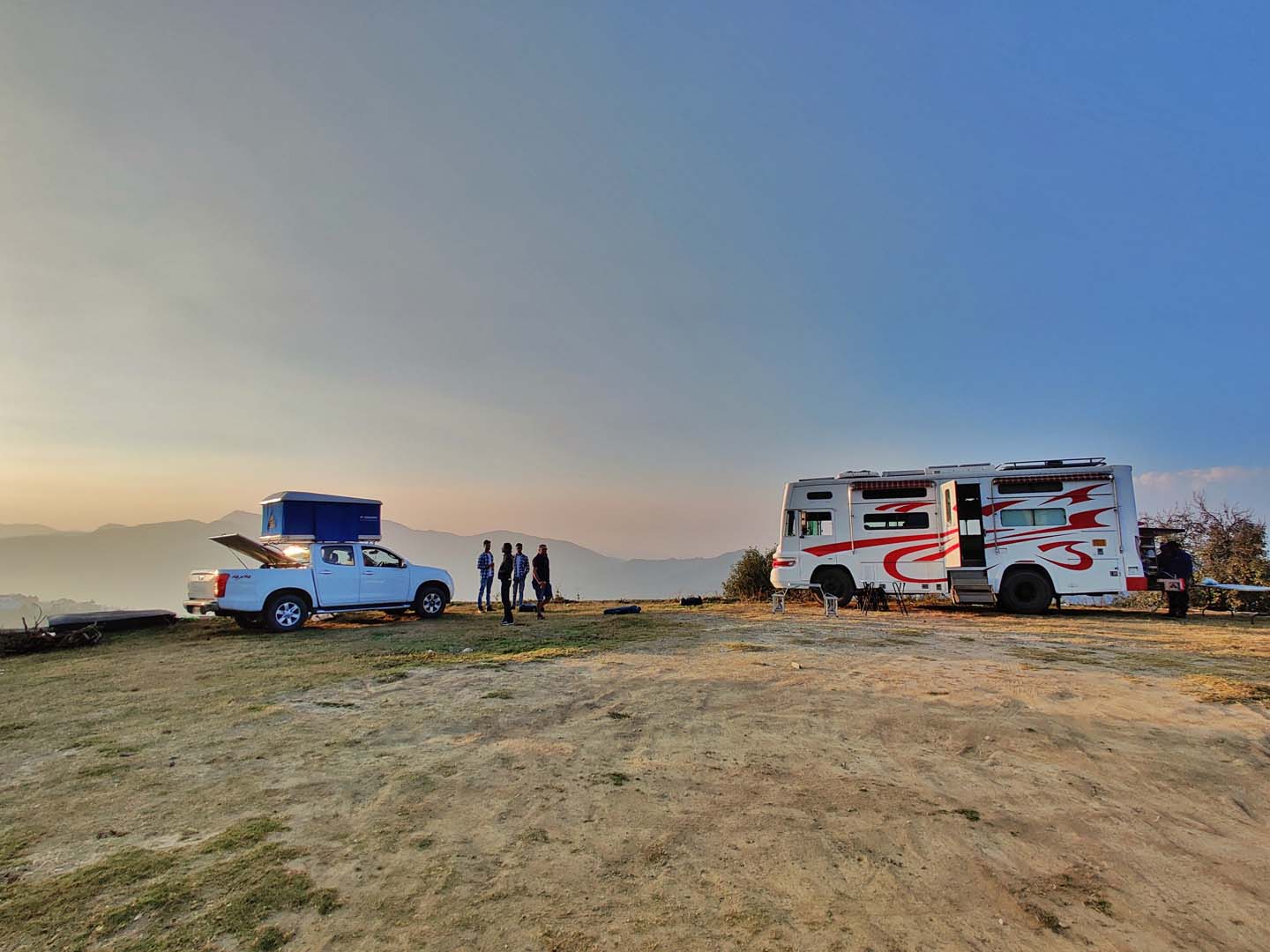 After a trek of 20-40 minutes (depending on the route you choose) you will be witnessing yet another waterfall The Dokhaney Waterfalls, but trust us when we say "you will have the best time ever"
Take a dip and relax
walk towards the stream and have yourself that much needed quality time with a freshly prepped meal in hand.
Capture the memories you create as much as you want to but you will still want to come back.
You will now be heading towards your halting station for the night
Tonight your HOME ON WHEELS will be stationed in the middle of no where. Let that fire be extra high because its not just a party for you, you have ampo audience, wild audience actually. You will find Venus, Mars, Jupiter and so much more when you look up tonight.
Day 4
Feel this silence for a little longer, you will then have a quick but heavy brekkie to head back to your jungle.
You will head back to Delhi to reach by the end of Day 4
This is not a good bye this is a see you soon. Because you can rent your Home on Wheels for this Enchanted Getaway or customise your own getaway if you want to.
What is the price of this package ?
Each caravan differs in terms of the pricing and there are various parameters that depict the final cost. We recommend filling the enquiry form so that we could have all the information that we require to provide you a detailed quote.
What all will be included in this package ?
The final charges will be inclusive of fuel charges, basic amenities of caravan ; start up toilitires, bed liners, blankets, pillows and pillow cases, cuttleries + utensils (if required) and a 14.2 LPG, driver and helper's daily Travel allowance, toll, parking, state taxes as per actual and 18% service tax ( only over the rental cost ). T&C*
What are the exclusions ?
Exclusive of food charges ( you will have to carry your own groceries and the helper will only be assisting you in terms of chores, not cooking of the meals)
We charge from ex garage to garage basis.
Any preceding kilometres than the permitted limit will be charged on a pro-rata basis.
There won't be any extra charges for the AC while the caravan is running however when the caravan is stationary or if the Genset is being used to charge any heavy soures etc or for the maintenance and refueling of genset through which the AC functions INR 300-600/hour will be charged.
Covid Protection : We have provided our services of home on wheels for long and short trips even during the lockdown.
• The caravan will be fully sanitized prior to the commencement of the rental.
• The driver cabin is completely parted from the rest of the caravan therefore there won't be any contact.
• The AC duct of both cabin and rest of the vehicle is different as well so there won't be any means of contact at all.
This is to assure you the most isolated thus safest travel.