Duration
9 Nights/10Days
Overview

Overview : Manali - Jispa - Sarchu - Pang - Shakti - Pangong - Leh - Hunder - Nimu Point - Leh

(Itinerary operational in reverse as well)

Season
May - September
Unlike usual caravan trips, The Adventures of Ladakh will have a whole fleet of Caravans, Food Truck and a backup vehicle.
After we eagerly wait for you, to arrive we will begin with our Adventures of Ladakh.
Day 1 : Lets be friends
You are going to get to know the MOTORHOME ADVENTURES TEAM/TROOP who are going to help you, in establishing that adventurous bond but with the ooze, of comfort. It will be our first LUNCH DATE together. You are free to go for sightseeing in the nearby areas of Manali which will be followed by EARLY dinner. Sleep well tonight and prepare for a dreamland journey.
Day 2 : Traveling to the Mountain of skulls | ROTANG PASS
After early breakfast we'll drive through pine tree forest covered with deep green coat, sparkling rivulets and waterfalls sprouting out of the adjacent hills sounds adventurous ? wait up there is more…
The up-winding road with beautiful scenery & adventurous drive brings us to Rohtang-Pass (3978 m) also known as mountain of skulls ( you'll know why ), exploring the region we will travel across to reach Keylong at (3350 m) in Lahaul district and little further to Jispa for overnight camp on Bhaga river bed. Don't let your competitive self sleep because we might have a joy full series prepd for you.
Day 3 : Discovering The Lahoul Valley
After a good green morning, ahead of Jispa we'll come across glacial water fall climbing up to the fifth highest motorable pass in the world, Baralacha La (4830 m), the alpine mountains will gradually transform into a rock solid muscle man. Well that man there further marks our entrance in the windswept Sarchu at (4253) m. The crowd of diverse people will surely be the entertaining night setter.
Day 4 : Buckle up for a CURVILICIOUS ride
After a pleasant stay at Sarchu we'll make an early start for the last leg of two highest mountain passes Nakee La (4905m) & Lachlung La at (5060 m). That is not just it. Are there any brandy lovers ? You'll know why we asked.
The trip will turn more adventurous when we'll roll on to our natural cafe which will be right in the middle of the spine-tingling hairpin bend like 21 gata loops. Further road takes us down to the tea-house settlements at Pang (4660m), which is also the second highest BRO barrack on Manali-Leh road. We'll make sure you have a good night, haulting 5 km ahead of Pang.
Day 5 : Lets Stretch !
After satisfying your foody self, we will be making moves to the boundless valley of Moori Plane at an elevation of (4000m) you, can stretch as much as you want to upto 36 kms in real terms. Get ready to get high, you'll be traveling to the 2nd highest motorable pass Taglang la with an elevation of 5328 mtrs, our passage to the Indus valley, greenery and beauty of J&K. We'll have some "WE" time after we station at Shakti village.
Day 6 : TODAY, Your day will turn beautifully blue ALL IZ WELL !
Well today, we will travel to the east of Leh via Chang-la Mountain Pass (5,475 m) to the salty Pangong Tso. where all is just so very well. Ahhaannn….
(Pangong : hollow) the highest lake in Ladakh at about (4300m), and is flanked by massive peaks over 6500m high. The lake is 150 km long but only 4 km widest. It extends almost in a straight line way into Tibet. Factually, only a quarter of the lake is in India. You are free to explore the region or better, you can just laze around in your home away home, enjoy spectacular views of the lake changing its colours or take short hikes up the hills behind you for even better vintage points to watch the sunset as village folk return from the pastures with their herds of sheep.
Day 7 : Traveling in the past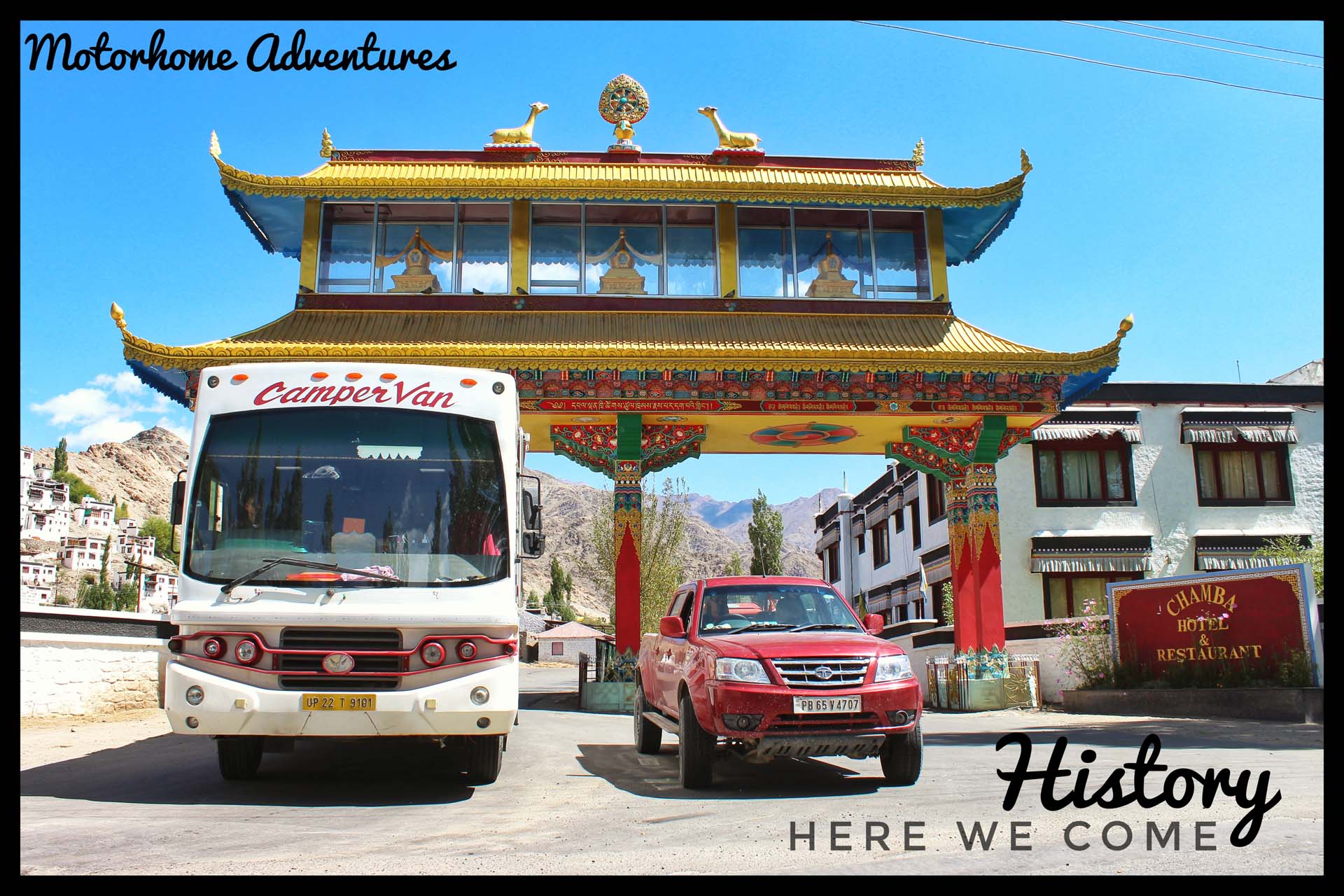 After having a mumbo jumbo breakfast we will leave for Leh, retrace the journey over the "Paagal Naula", take a chill pill while traveling through Chang La pass to explore the history and culture of Leh & Ladakh. The best known monuments around Leh and its palaces, museums & monasteries keen collectors, Leh town is your spot.
DAY 8 :

I feel on the TOP OF THE WORLD ! Can i scream please :D
Get your calories in because we have a lot to shed. You will achieve one of your personal milestones, after crossing the world's highest motorable pass, Khardung La, (5602 m) [Because hello.… UMLING LA is still not it]. Enjoy the hotness of soup at the pretty cool….super, COOL, Khardung La top, do not forget to take pictures along the sign board of highest motorable road. After a quick photo session at Khardung la we'll proceed to Nubra Valley, downstream will take us to Diskit one step away from Hunder a pretty village, set among lots of trees and mingling streams, sand dunes, snow capped mountains and double humped Bactrian Camels. Overnight camp next to mingling streams & bon-fire. It will be lit.
DAY 9 : Floating through the adventure
Ride on if you missed riding on Bactrian Camels. After you dress back from your Hee Haw… attire to your travel attire we will leave for Nimoo point which is the junction of the confluence of Zanskar and Indus rivers. A lot to retain ? Well you will surely, learn about them by heart if you opt for rafting through the route.
Day 10 : A royal beginning of your Motorhome Adventures
We hate to say that, its time to leave.. but hey ! you have a legit Adventures of Ladakh/Himalayas diary to share.
For the last time in the Adventures of Ladakh we'll arrange your drop at Leh. Until next time. Au revoir !
Does traveling with a group mean i'll have to share my home on wheels ?
Absolutely not ! Although you will be traveling with a group of upto 25 people you will be provided with a private caravan accommodating X, Y, Z number of people according to your requirement (We provide the caravan of first come first basis)
Will i have to book a hotel ?
Because you will be traveling in your home on wheels, you wont have to worry about booking a hotel or search for bathrooms from road to road. Each of our caravans have comfortable seating and sleeping space along with a fully functional bathroom with hot and cold water supply. For people who want to make their sleep time interesting we will be providing an optional Tent ( IF you want to opt for Tent, we request you to inform us prior to the trip )
Will i have to cook the meal or order from a restaurant ?
The hassle of cooking or ordering wont be necessary. Because you'll be traveling with a Food Truck, our chef will freshly prepare the meal. Breakfast, Lunch and dinner along with tea/coffee breaks will be included.
What are the inclusions and Exclusions of the trip ?
Includes :
• All amenities of caravan
• Three course meal with tea/coffee breaks ( freshly served from the food truck)
• Games and fun activities by Motorhome Adventures
• Toll
• Parking
• State taxes
Excludes :
• 18% of service tax
• 18% food tax
• Sightseeing charges
• Other activities apart from the ones included in the package (Camel ride, Rafting etc.)
• Permits
• Air fare
• Taxi fare
What about the Permits ?
Please send your details via email in advance: To visit Pangong Lake & Nubra valley, Inner-line permits are required by Indian&foreign"visitors.
If there are any other questions that we might have missed you can contact us and mention the same :)